2023/09/11
Symphony introduces Teahouse Weave and Woodwinds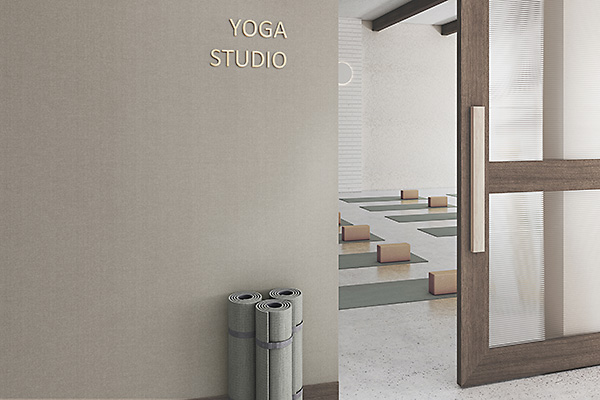 TEAHOUSE WEAVE
Teahouse Weave revitalizes interiors by integrating earth-focused colors and weaving textures that emulate natural elements to promote well-balanced energy and stability. This series subtly blends the characteristics of fine linen and grass weave with a soft, luxurious texture and rustic qualities reminiscent of natural fibers. Offered in eighteen refreshing color variations from cool to warm tones that evoke a sense of tranquility, grounding, and connection with the outdoors. View swatches.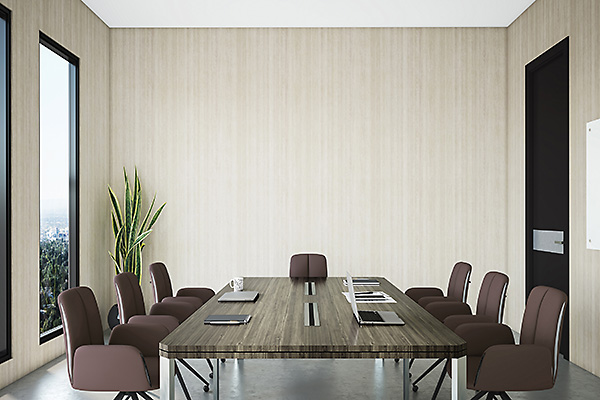 WOODWINDS
Wood wallcovering has long been a favorite of interior designers for its natural warmth and authentic beauty. Designed to last, Woodwinds is the solution you're looking for to give your space a beautiful representation of earthly material that is cost-effective and versatile in any room. Natural graining, knots, subtle color shading, and texture make Woodwinds almost indistinguishable from genuine aged resources. View swatches.
| | | |
| --- | --- | --- |
| Teahouse Weave Video | | Woodwinds Video |
| | | |
---
2023/04/03
Symphony introduces In Motion and Overture Finale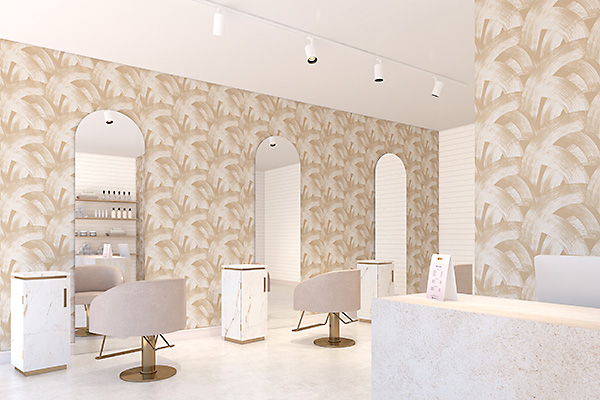 IN MOTION
This wallcovering trend is about expression, movement, and organic free-forming brushstrokes. Inspired by the repetition and color within Art Deco design, In Motion captivates with intriguing depth and a layered approach. The deliberate brush strokes speak of intent and confidence while hinting at movement with an almost tropical feel of swaying palm branches. In Motion has seven colorways, offering soft options such as Wispy White or the chance to be daring with high contrast options like Black Beauty. This pattern will undoubtedly set those mental design wheels In Motion! View swatches.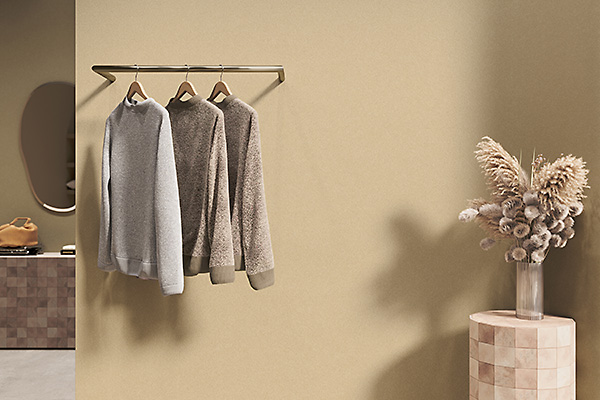 OVERTURE FINALE
Overture Finale successfully marries luxury with an industrial origin for a uniquely sophisticated wallcovering. With an ode to oxidized metals, the distinctive delicately layered texture and soft sheen create a powerful combination for any interior. View swatches.
---
2022/10/24
Symphony introduces Moondance Line-up, Line-up, and Resort Raffia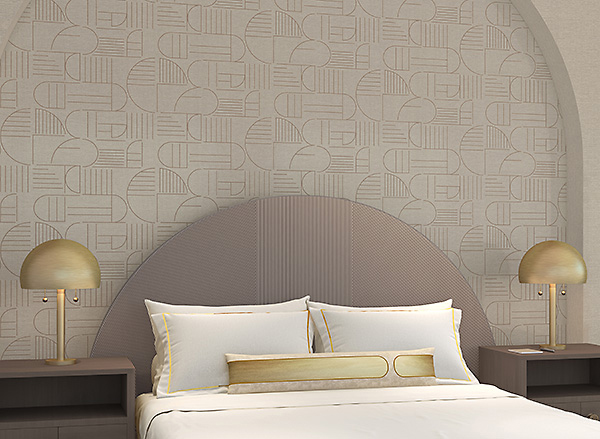 MOONDANCE LINE-UP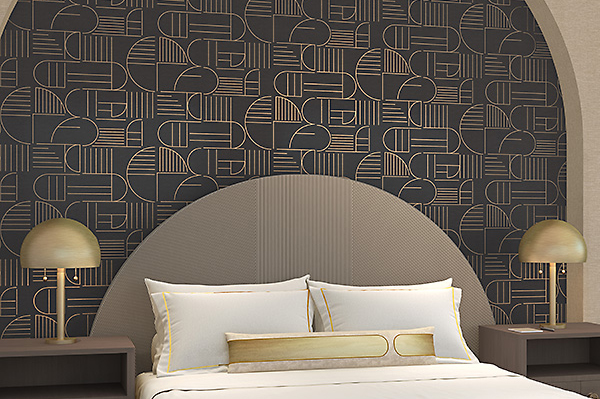 LINE-UP
Let Moondance Line-up and Line-up propel you back to the age of glamour with these Art Deco-inspired patterns. Bold shapes and clean geometric lines are the foundation of these patterns. The emphasis on rounded arched contours feeds today's desire for this of-the-moment profile. The opulent jewel effects in Line-up reinforce the theme. Moondance Line-up's sleek color pairings highlight the later spirit of the Art-Deco movement and coordinate with Moondance perfectly.
View Moondance Line-up swatches.
View Line-up swatches.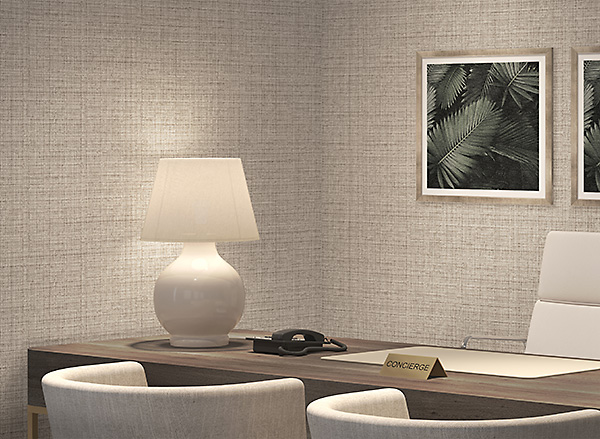 RESORT RAFFIA
Resort Raffia transcends fads delivering the timeless appeal of natural wovens. This beautifully balanced pattern shows off its penchant for breathing calm energy into any space. Suitably colored in casted shades of weathered grass fibers, Resort Raffia may be the essence of relaxation. Well rested and looking for a more dramatic flair, add a touch of glam with metallic offerings such as Graphite and Cattail. View swatches.
---
2022/05/07
Symphony Introduces Ink Spots and Ink Spot Linen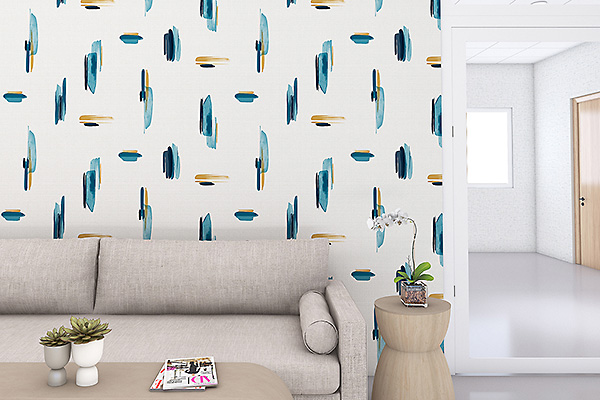 INK SPOTS
As each ink droplet finds its place, a layered pattern of lush color appears. Inspired by an Artist's drop cloth, Ink Spots delicately paints the surface with soft strokes of varying transparency. The unique gatherings of pigment create a gentle balance between the positive and negative space. Ink Spots' seven versatile colorways offer sophistication and function. Embrace Neutral White and Cream's a la mode tones for a calming ambiance. From the deep, suave blues of Navy and its hospitality vibe to the light, playfulness of Wellness White, perfect for healthcare, Ink Spots is the finishing touch to your canvas. View swatches.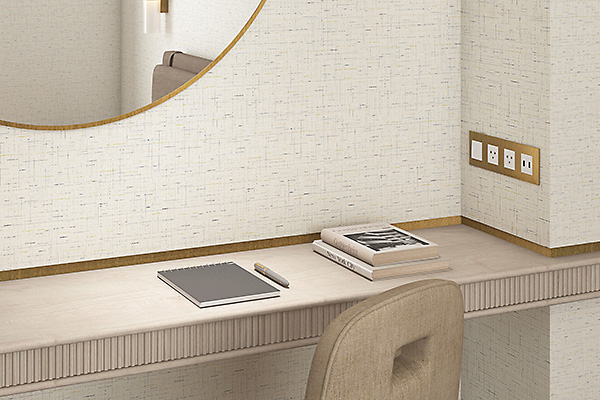 INK SPOT LINEN
A classic linen that embodies its muse an artist's canvas. Adding an edge to this traditional textile, Ink Spot Linen plays with texture and pops of color. Thoughtfully curated colorways allow accent hues and tones to be highlighted within your space. Complete your healthcare setting with the fun, youthful blues and purples of Wellness White, or pull out the neutral, soothing striations of Cream and Neutral White for a heavenly atmosphere. From bold blues like Navy and Seaglass to the luxurious look of Cloud or Fawn, Ink Spot Linen hits the spot. View swatches.
---
2021/06/10
Symphony Introduces Plaster Prelude and Plaster Primo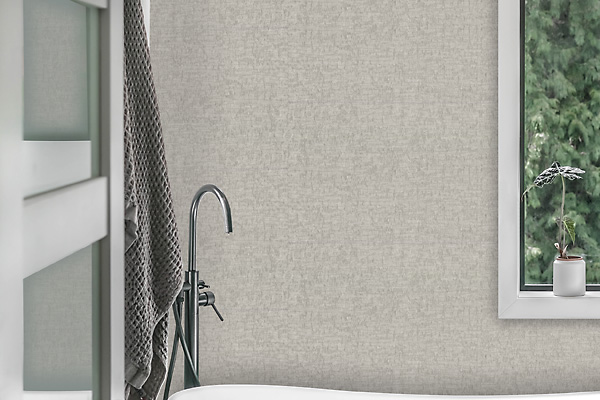 PLASTER PRELUDE
Plaster Prelude suggests the look of time-worn plaster, coated, scraped, and connected to the history it holds. The matte colorways begin to reveal their storied past one layer at a time. Its modern mate. View swatches.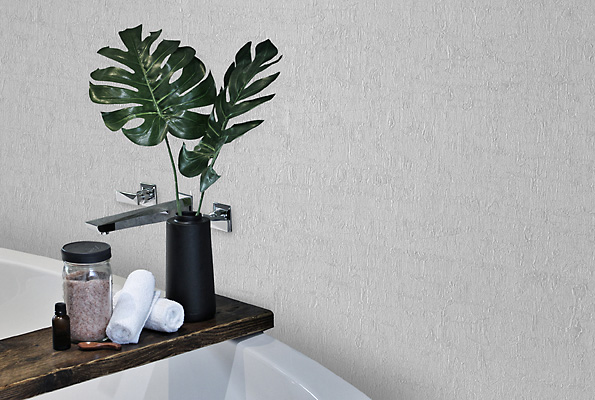 PLASTER PRIMO
Plaster Primo takes this duet for a glamourous turn. The gilded colorways offer the reflection of a simplified, softly metallic surface that reflects the story yet to come. View swatches.
---
2021/3/17
Symphony Introduces Prima Silk.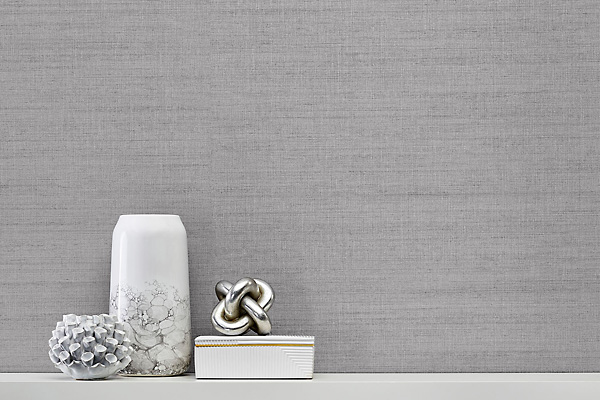 PRIMA SILK
PrimaSilk is a true mimicry of dupioni silk; with its quintessential nubby texture, subtle highlights, and soft metallic threads that appear to weave their way across the warp. Offered in 24 colors that strike the right note between saturation and restraint. If imitation is the sincerest form of flattery...we're pretty sure dupioni is feeling quite honored. View swatches.
---
2020/3/26
Symphony Introduces On Pointe, On Pointe Petite and On Stage.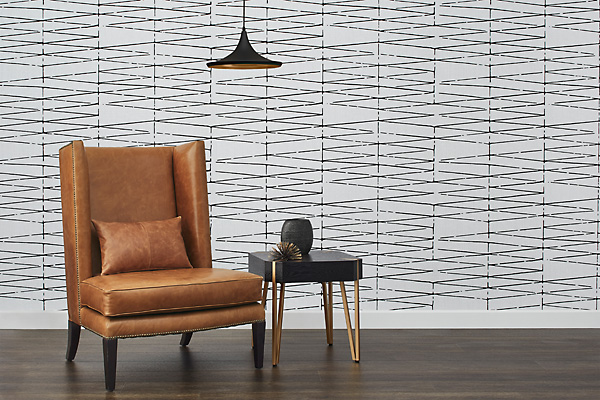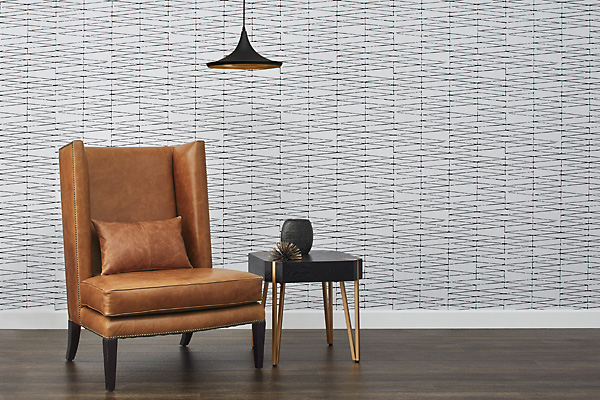 ON POINTE AND ON POINTE PETITE
On Pointe Petite showcases a stunning graphic design that will keep you on your toes. This mid-scale design has 12 neutral and vibrant colors, topped with metallic or matte lines. Contemporary chic continues with On Pointe, the large-scale version of On Pointe Petite. At double the size, one stocked colorway provides a sneak peek of the pattern. On Pointe is available in On Pointe Petite or custom colors, creating endless possibilities. Both fine line, angular patterns coordinate with the linen texture, On Stage.
View On Pointe swatches.
View On Pointe Petite swatches.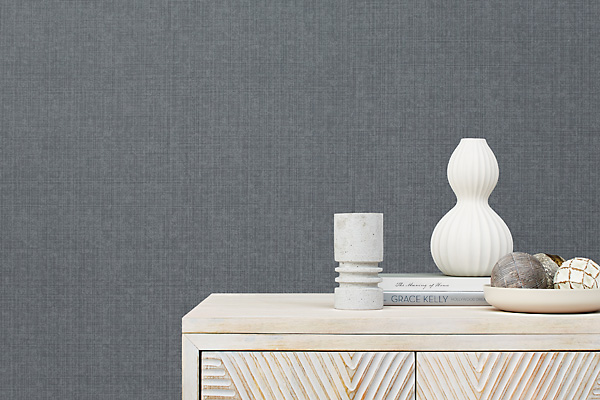 ON STAGE
On Stage…not just your simple linen, but a texture with contrast that creates a fabric-like essence. The spotlight shines on the 24 natural and pop hues which pair with On Pointe Petite and On Pointe View swatches.
---
2019/12/04
Symphony Introduces Grateful Denim, Rollin' Stone and Arrow-Smith.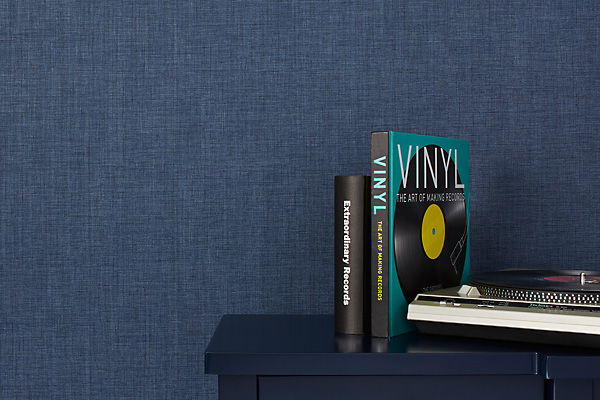 GRATEFUL DENIM
Like your go-to pair of broken-in jeans, Grateful Denim has the textural effects of worn linen. Stone Wash, Bell-Bottoms and Vintage Cords are some of the 21 groovy hues. View swatches.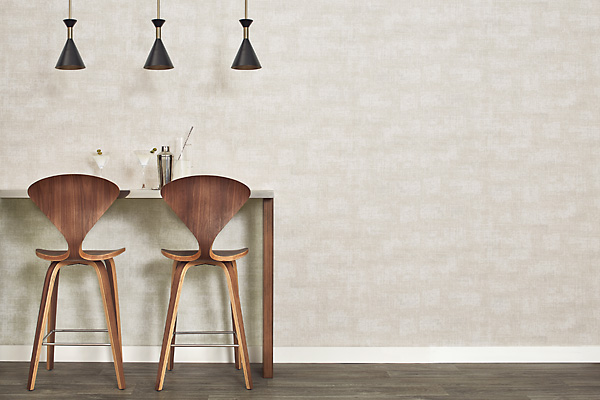 ROLLIN' STONE
Rock on with the freshly quarried stone appearance of Rollin' Stone. The rough-surfaced texture of sediment layers or deconstructed plaster can be seen in Paint It Black, Midnight Rambler and Get Off My Cloud, just a few of the 8 colors taking the stage. View swatches.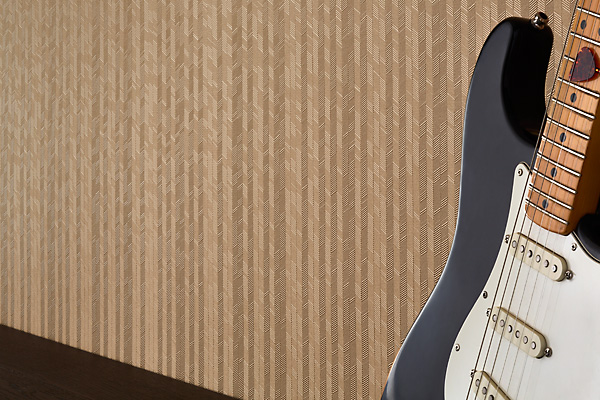 ARROW-SMITH
Dimension is created through the heavy textured emboss in Arrow-Smith. Whether you see the feathers of an arrow, abstract V shapes or vertical blocks, this contemporary pattern is sure to be a showstopper. Tyler Teal, Perry Pink and Mahogany Guitar are some of the 18 matte and metallic colors stealing the show. View swatches.
---
2019/8/22
Symphony Introduces Demi-tone Damask, Demi-tone Linen and Sisal Song.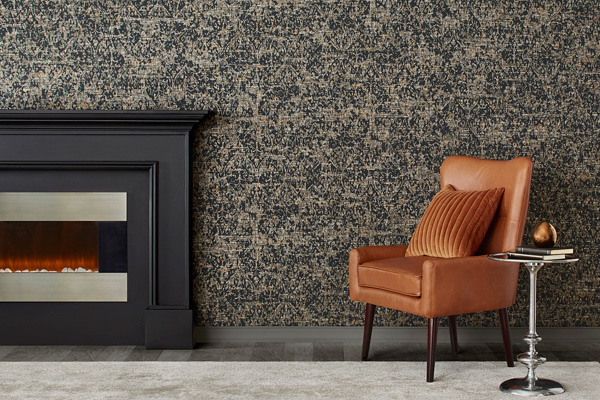 DEMI-TONE DAMASK
What happens when a classic design is deconstructed…Demi-Tone Damask! Modern by abstraction, with a slight nod to the floral revolution, this mid-scale pattern is multi-colored, with accent hues peeking through the 7 colorways that pair with Demi-Tone Linen. View swatches.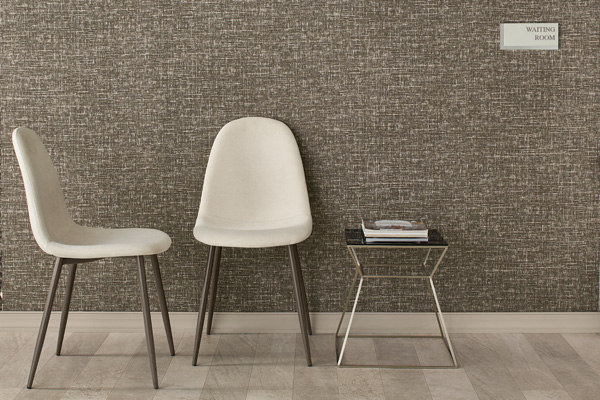 DEMI-TONE LINEN
Worn effects and high contrast create a fresh texture in Demi-Tone Linen. Easy to see at a distance, this twist on linen features 32 colors which coordinate with Demi-Tone Damask and Sisal Song. View swatches.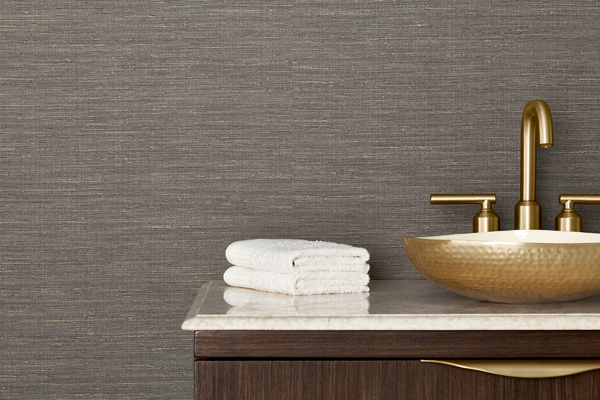 SISAL SONG
Sisal Song resembles a fine woven grasscloth with a horizontal touch of metallic throughout the 19 colors, some of which complement the mid-scale Demi-tone Damask and Demi-tone Linen. View swatches.
---
2018/2/19
Symphony Introduces In Tune, Terrazzo Tap and Brush with Fame.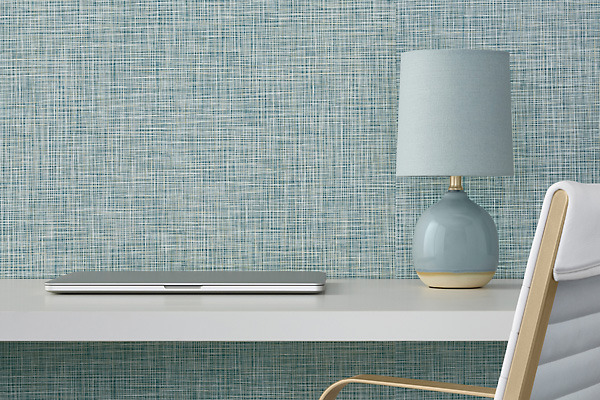 IN TUNE
Find the perfect harmony with In Tune. An open weave meets a bi-directional pattern that can be seen at a distance. A full range of 21 colors hits just the right chord. View swatches.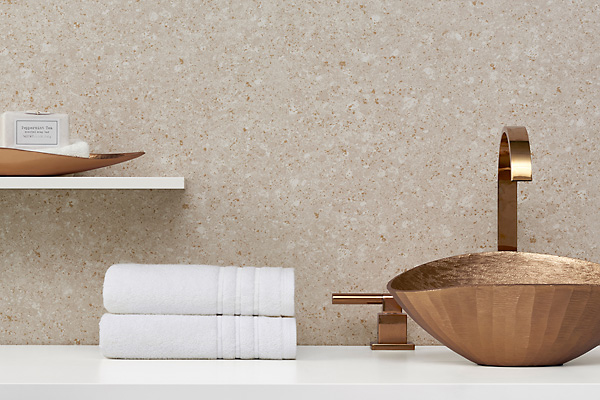 TERRAZZO TAP
Explore the tropical foliage with Symphony's rich and complex design, Tropical Tune. Inspired by a new take on botanicals, this layered, large-scale pattern is ideal for nature-infused statement walls in hospitality/spas, condos, and assisted-living venues. The eight colorways range from the sophisticated Pearly Paradise, to the dark and dramatic Jungle Green, and all have companion colors in the new textured vertical pattern, Tiki. View swatches.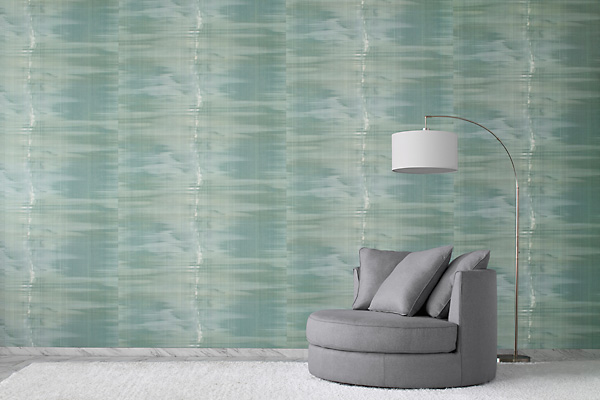 BRUSH WITH FAME
Paint-like strokes gently skim the surface in the larger-than-life design, Brush with Fame. Monochromatic color sweeps across the 7 soothing hues. One look is sure to leave you star struck. View swatches.
---
2018/9/17
Escape from the ordinary with Symphony Wallcoverings Tropical Tune, Tiki Stripe and Tiki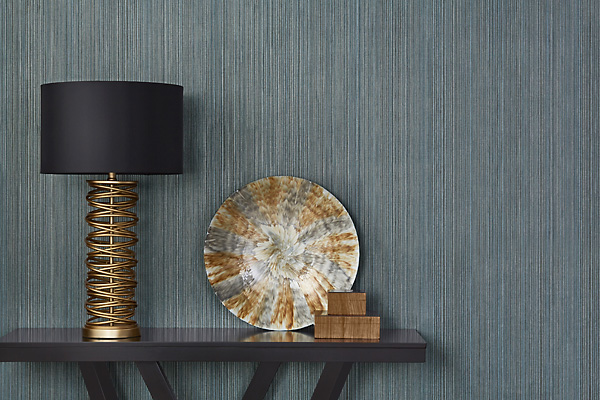 TIKI
Like its striped companion, Tiki mimics tall grasses in tropical climates, with a refined, multi-color, woven texture pattern. Captivate your vacation spirit with 24 colors that can go anywhere, and coordinate with Tiki Stripe. View swatches.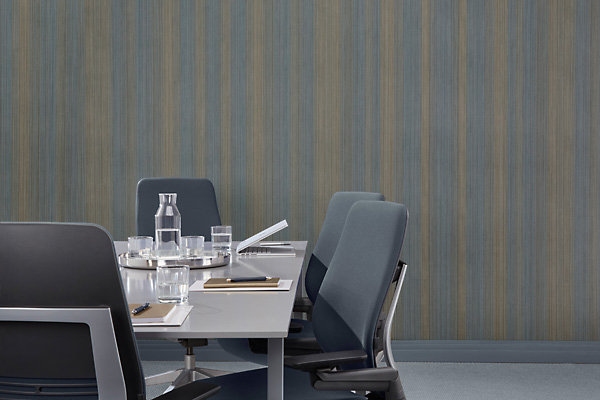 TIKI STRIPE
Thatched grass with varying stripes, inspired by the bamboo stalks of a tropical hut, describes Tiki Stripe. Touches of metallic create the fade-away, statement vertical stripe on a natural fiber-like background. 8 hues coordinating perfectly with Tiki.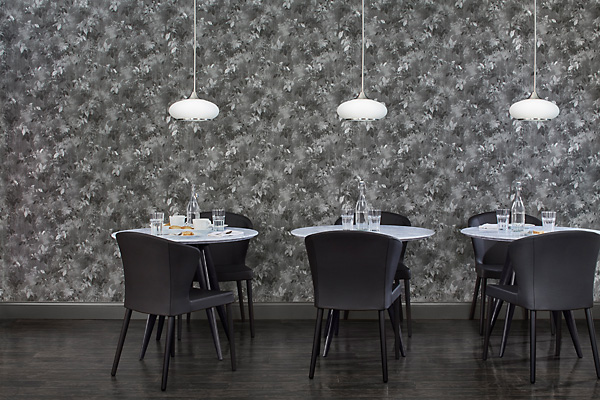 TROPICAL TUNE
Explore the tropical foliage with Symphony's rich and complex design, Tropical Tune. Inspired by a new take on botanicals, this layered, large-scale pattern is ideal for nature-infused statement walls in hospitality/spas, condos, and assisted-living venues. The eight colorways range from the sophisticated Pearly Paradise, to the dark and dramatic Jungle Green, and all have companion colors in the new textured vertical pattern, Tiki.
---
2018/6/29
It all comes together with Puzzle Piece and Puzzle Silk from Symphony Wallcovering.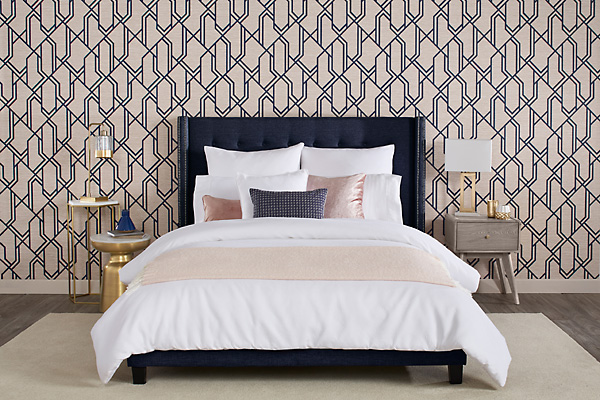 PUZZLE PIECE
Put the pieces together with Puzzle Piece by Symphony. Reminiscent of a jigsaw puzzle this bold geometric is all about the angles. Tonal, bright and metallic graphics change the look from preppy to sophisticated in the 13 colors that pair with Puzzle Silk. View swatches.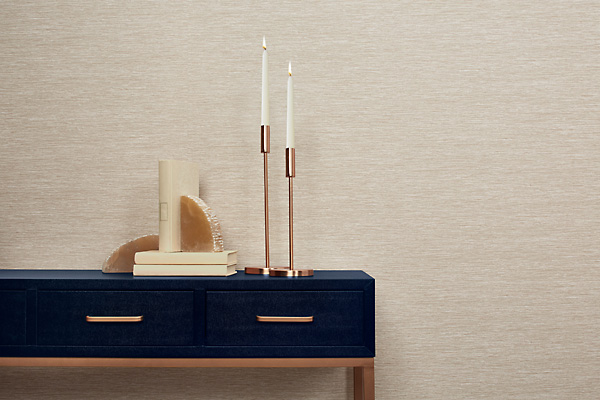 PUZZLE SILK
Symphony's Puzzle Silk is a knubby, chenille-like silk that is the perfect fit for Puzzle Piece. Soft horizontal texture can be seen across the 24 neutral and pop colors. View swatches.
---
2018/1/02
Symphony's latest introductions What the Hex, What the Hemp and Rhythm and Reed are a fresh take on geometric illusion and hand painted woven.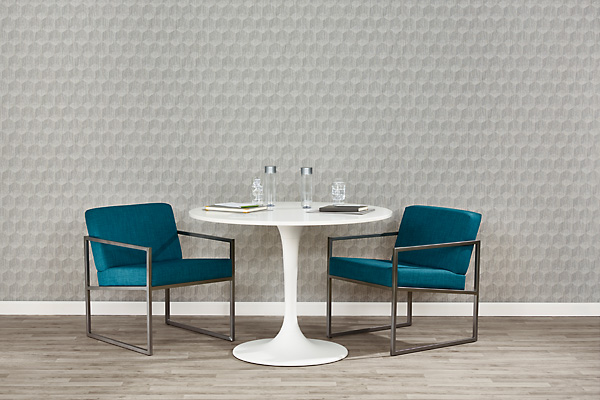 WHAT THE HEX
Hexagon shapes, inspired by dimensional tiles, seem to hop off the wall in What the Hex. Stare too long at this mid-scale pattern and you might see the illusion of 3D cubes. This contemporary twist on a geometric classic offers 12 colors that coordinate with the textural What the Hemp. View swatches.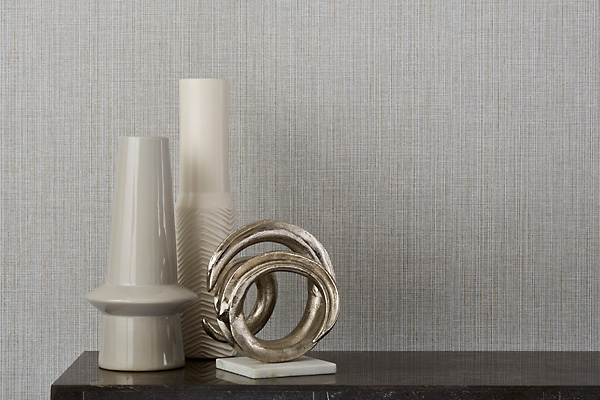 WHAT THE HEMP
What the Hemp holds its own when paired with its companion, What the Hex. Slightly larger in contrast and scale than expected, this textural linen features a bi-directional design that can be seen at a distance. White Vertex, Convex Cream and Polygon Plum are some of the 24 colors in the contemporary palette. View swatches.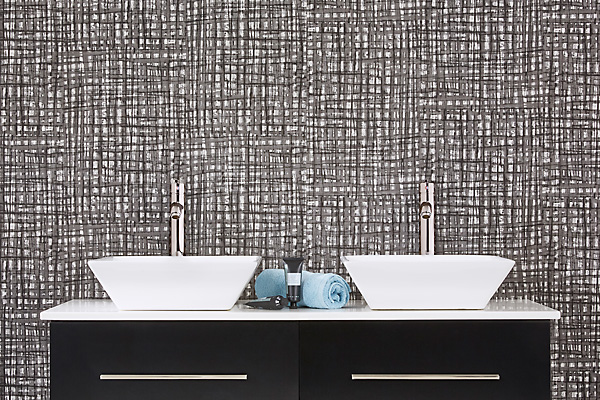 RHYTHM & REED
Hand painted, natural woven reeds were the inspiration for Rhythm & Reed. Translucent strokes create a layered and playful appeal. Subtle neutrals and unexpected color pairings can be seen in the 18 hues that offer both matte and metallic options.
---
2017/10/15
Ink'd, Ink'd Linen and Glitterin'….Symphony's latest artful and alluring introductions.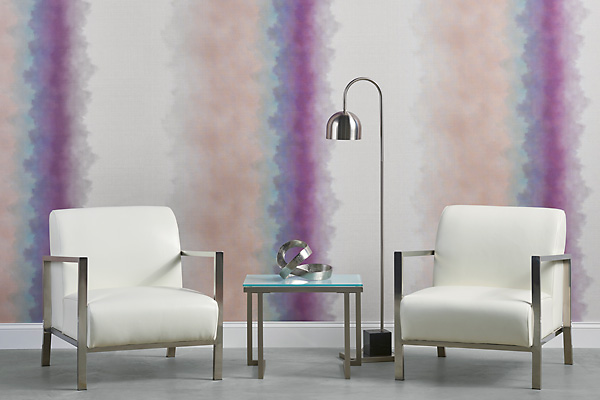 INK'D
Inspired by an artist canvas, Ink'd is your answer to digital! Painterly qualities with mulit-color ombre effects create this mural-like statement masterpiece. Unique blends of smoky neutrals and vibrant hues across the 7 colorways coordinate with Ink'd Linen. For added glam, pair with Glitterin'. View swatches.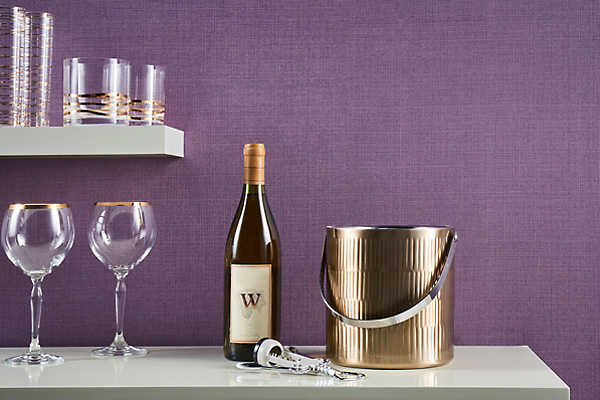 INK'D LINEN
The essence of sophistication…classic linen with an edge! Ink'd Linen features a long line of neutral and mid-century hues such as Vapor, Tropical Oasis, Seaglass and Marine Green. This palette blends seamlessly with Glitterin' and Ink'd. View swatches.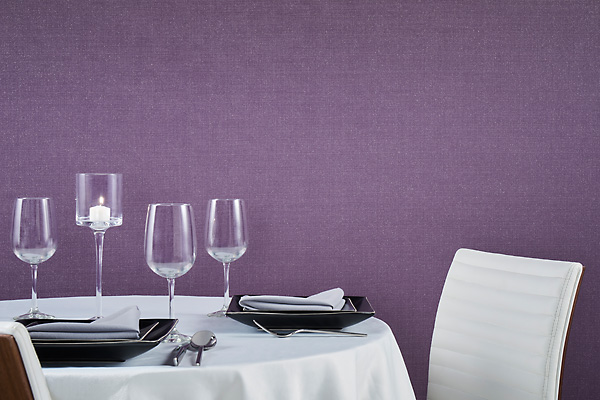 GLITTERIN'
Luxury and glamour meet in Glitterin'. A touch of sparkle is added to traditional linen creating dazzling appeal. Limelight, Royal and Mink are a few of the 19 colors that escort Ink'd Linen and Ink'd.
Glamourous
---
2017/04/21
Symphony Wallcovering debuts three new patterns.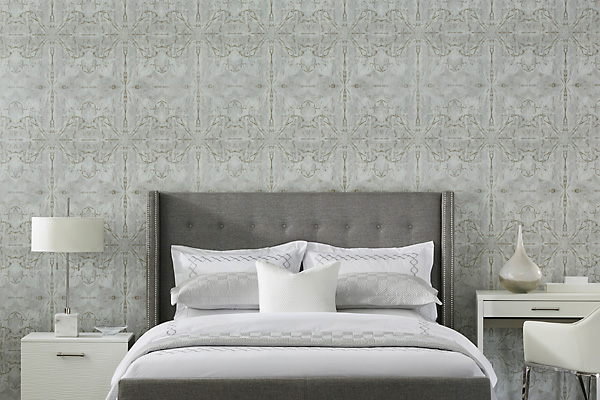 SYNCHRONICITY
Just as time and space repeat themselves, mirror images coexist throughout Synchronicity. Metallic diamond shapes top monochromatic colors, reminiscent of tiles, a tin ceiling or a crystalized ice effect. Harmonious hues such as Snowflake, Antique Auburn and Sea Crystal slide across this large-scale pattern.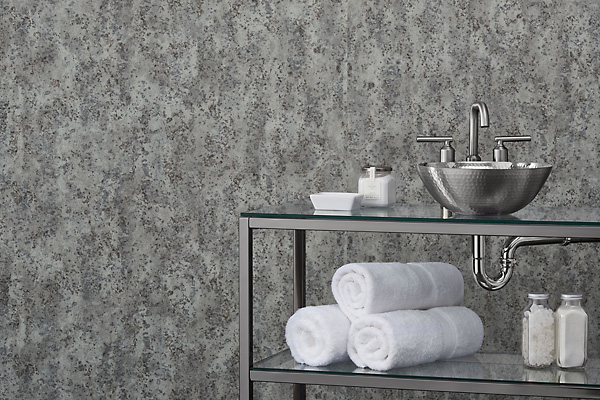 HEAVY METAL
Take the stage with Heavy Metal. Gradations of color within this unique design create an acid-washed concrete or burnished metal influence, and can work on a statement wall or as a background player. Rock out with Headbanger Bronze, Motley Blue and Groupie Greige, some of the 19 colors performing in the band. View swatches.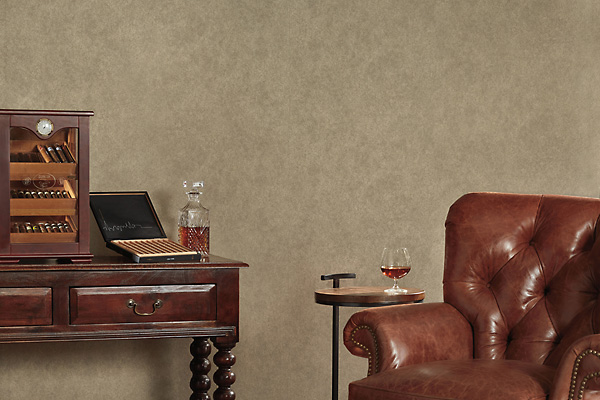 PER-SUEDED
Trend forward in fashion and finishes, Per-Sueded delivers the timeless, classic look that you expect. Subtle variations create depth and evoke the look of authentic suede across the long color line. Reach out and touch Blue Suede Shoes, Corduroy, Penny Lane, or any of the 25 hues that pair perfectly with Synchronicity and Heavy Metal. View swatches.
---
2017/01/25
Symphony Wallcovering has your all access pass to Levels Stripe, Levels and Bamboo Beat.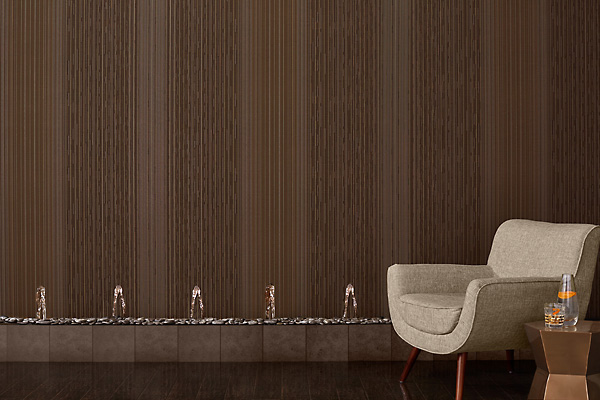 LEVELS STRIPE
Drop a beat with Levels Stripe. Vertical lines of adjacent beads create random stripes resembling equalizer vibrations. This large-scale pattern features a full-width horizontal repeat and 8 heart-stopping hues like Techno Pop, Percussion and Mambo which mash up with Levels.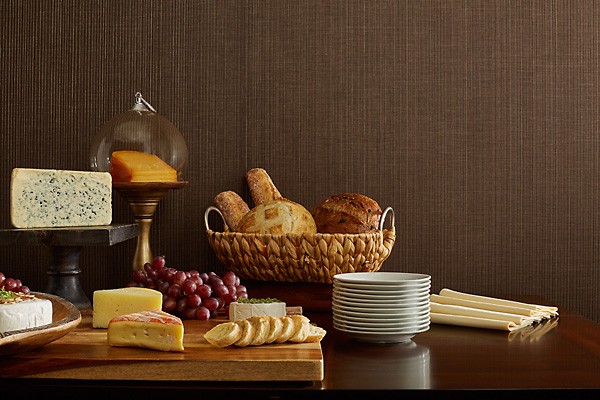 LEVELS
More subtle than Levels Stripe, its companion, Levels marches to its own beat. The pin cord stripe and vertical emboss mimic wound guitar strings. Catch the rhythmic Mello Cello, French Horn and Cool Chord, some of the 24 strumming colors. View swatches.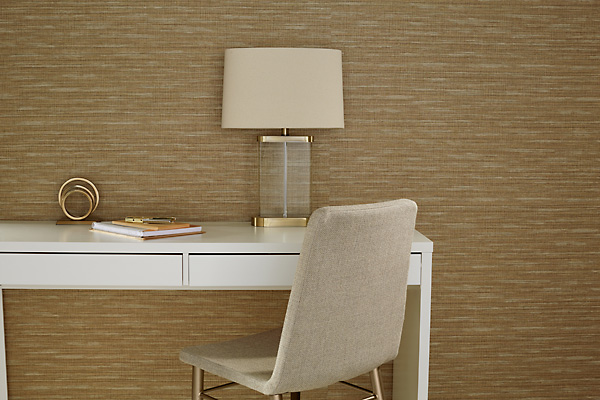 BAMBOO BEAT
Bamboo Beat sets the rhythm of natural beauty with the feel of handcrafted bamboo. Horizontal reeds are woven with metallic threads bringing this authentic replica into the new age. The exotic mix of 18 dyed-colors includes Macadamia Nut, Sugar Cane, Golden Mimosa and Coconut Husk.
Meet you backstage with Levels Stripe, Levels and Bamboo Beat.
---
2016/08/24
Symphony debuts its latest trio, Jailhouse Rocks, Memphis Linen and Viva.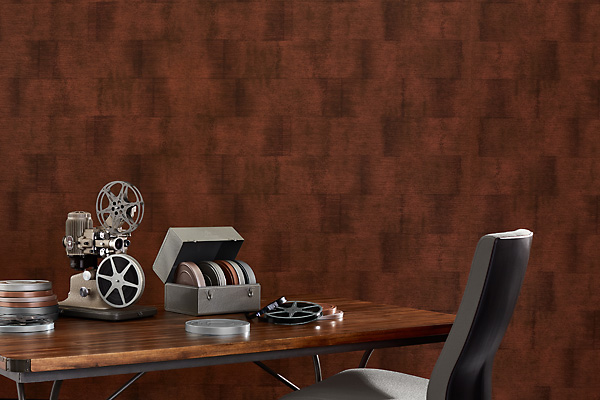 JAILHOUSE ROCKS
Rock legends come from near and far to see Symphony's Jailhouse Rocks. This breakout large-scale design features a shaded cement wall pattern, new horizontal texture and weathered metal color influence. Eight colors including Black Onyx, Smokey Grey and Moon Stone are all dancin' to Jailhouse Rocks.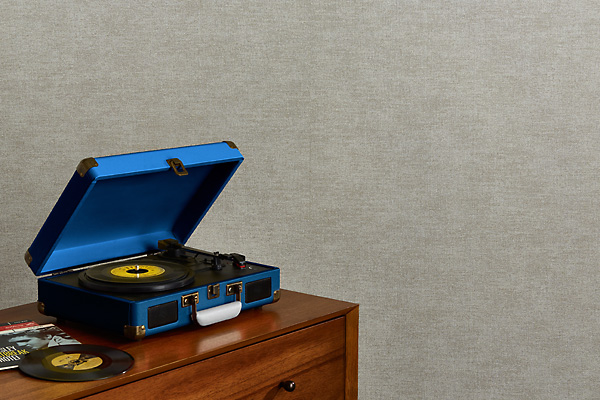 MEMPHIS LINEN
In the Home of the Blues, Memphis Linen is as classic as the musical crooners themselves. A timeless, vintage fabric-look harmoniously accompanies a rich medley of 24 colors. View swatches.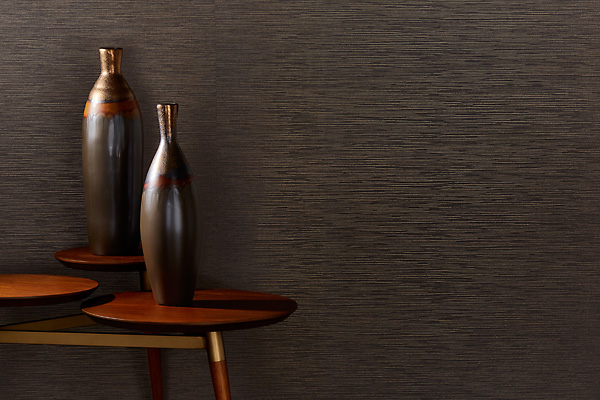 VIVA
Viva takes center stage with its debut of a fresh horizontal emboss. Its refined cement grain is the backdrop for the shimmering, tip-printed metallic strokes. Rough luxe never looked so glamourous. Hit the strip with 24 lavish colors including Bright Lights, Scarlet Sway and Vegas Nights. View swatches.
---
2016/03/07
Symphony Encore performs 3 brand new numbers…..A Cappella, Chimes and Renaissance.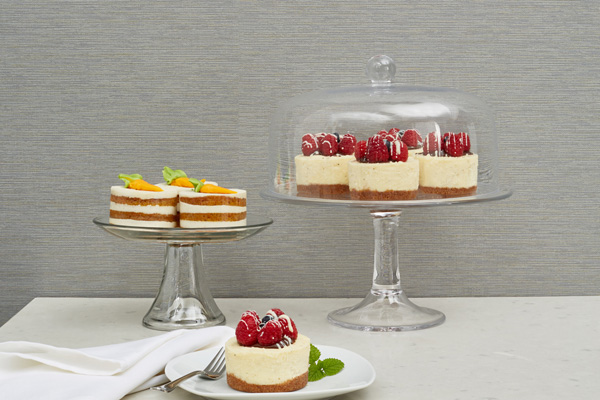 A CAPPELLA
A Cappella features a woven linen texture gently entwined with a touch of metallic. It's a true classic that stands on its own with a full range of 24 natural colors such as Pebble Treble, Steel Drum and Rhapsody Blue. View swatches.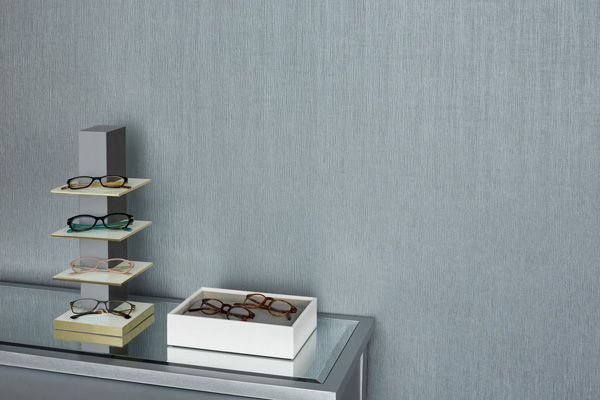 CHIMES
Chimes was developed using a special, multi-step process creating dynamic, reflective qualities. This fabric chameleon features strong vertical striations accented with slubs of horizontal silk. Our playlist includes 24 robust neutrals and pop hues.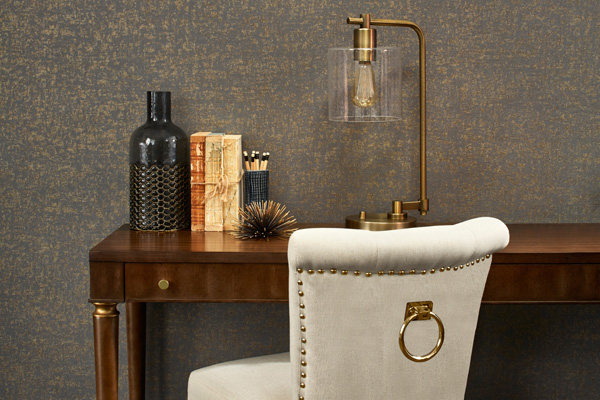 RENAISSANCE
The time-worn texture of crinkled parchment paper describes Renaissance. Gilded and mysterious, this gracefully weathered design reveals antiqued grandeur that captures current influences. Metallic tones mixed with 18 dusky neutrals blur the lines between the past and present. View swatches.